I've heard about usable artworks before, I never thought I'd encounter one today.

A great many countries from Western Europe are famous for works of art that transcends time, but time and again some rarely gifted artists from Asia create works of art so powerful even those from Europe are moved by them. Such is the story of Katsushika Hokusai whose artwork inspired the creation of the next shop we'll be visiting today: Hokusai Graphic. 
Address : 〒111-0032 東京都台東区浅草1-20-12 宮原ビル1階
Schedule: 10:00 NOON – 07:00 PM
MAP: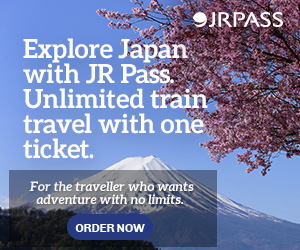 The concept of Hokusai Graphic was inspired by the world renowned Japanese artist and Ukiyo-e* painter named Katsushika Hokusai whose contribution to art inspired and motivated great Western impressionist painters such as Van Gogh and Monet. His works which plummeted him to such stardom was a series called Thirty-six Views which comprised of paintings about Mount Fuji, The Great Wave and Fine in, Clear Morning. 
His main work which was the Thirty-siz views of Mt. Fuji also reached an overseas influence and became a part of "The Blue Revolution". 
*Ukiyo-e is a genre that came from the Japanese art, it's artists made woodblock paintings and prints which featured the Japanese tradition and how the Japanese lived during the 17th and 19th century. It's subjects ranged from landscapes, erotica, kabuki flora & fauna and historical events. 


Japan is a rainy country, but other than that there's a certain beauty in utilizing umbrella in Japan which started in the Edo period. During this period the usage of umbrella flourished as an influence of "Sukeroku" or 'The Flower of Edo' which is a Kabuki performance that makes use of umbrellas. Since then umbrellas as an accessory became a fashionable statement or iconic for the Japanese. 


KIND OF UMBRELLAS FEATURED INSIDE
The store features umbrellas with handles made from natural bamboo and designs which captivates the taste of a lot of women, they even highlight the designs most women buy to make it easier for the customers to choose. They made use of natural wood for the shaft as well. Their umbrellas also have a flexible rib structure so ensure its longevity. To top it all, the design of the umbrella features unique Hokusai patterns, they also utilized the Un-tout-cas look which is a combination of parasol and umbrella.


Same with women's, they also highlight the top designs men buy when choosing their umbrella. The manufacturing process of their products is a traditional one and usually undergoes more than 100 stages. Their umbrellas incorporates the Hokusai emblem and some of them makes use of Washi or traditional Japanese paper. One of my favorite thing about their umbrellas is they are made especially for rainy days and sunny days alike which is why they have a UV cut function as well.



Next >>Mamaron: Korean Style Macarons Arrive In Tokyo
MORE DESTINATIONS ASAKUSA:Kamiya Bar's Denki Blanc: A Century of Secret Concoction
MORE ABOUT JAPAN DESTINATIONS HERE: Popular Cafes – Japan Destination